I get around.
That's right, I'm always dating several WordPress hosts at once, because I want to keep my options open and I want to know what's out there. Below is a summary of my experience with three web hosts, each of them great enough that I'm willing to recommend them to you.
Let's start the introductions…
Recommend WordPress Hosting (IMHO)
Before we dive, I'd like to be clear: this is not a "definitive top 10" or "best WordPress hosting" post. This is just me sharing my experiences and thoughts related to WordPress hosting with three companies.
I have no doubt there are other amazing web hosts out there, but they'll have to bide their time for an honorable mention here until I've had a chance to vet them for myself.
Note: As of this writing, I have active sites hosted with each company below. I'm paying for the accounts and don't have any relationship with these companies beyond simply being a customer (and an affiliate).

WPEngine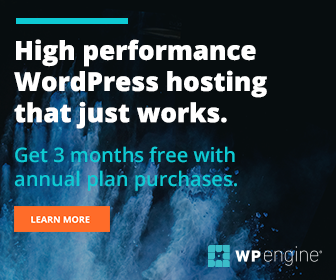 is what's commonly called a "managed WordPress host," meaning that they only host and optimize their servers for WordPress. There's no one-click install, WordPress just IS when you set up your account. I've always had great interactions with their customer support.
The best WPEngine Feature? Staging sites.
A staging site is an independent clone of your live production site that can be easily created to test plugins, themes, and custom code. You can also copy the staging site to the live site at any time after making changes. – WPEngine
Staging sites are the perfect way to test out changes in a cloned site environment before pushing them live. If you're a cowboy coder (I hope you're not) and like to tinker on live sites, for the love of Pete, please incorporate staging sites into your workflow.
If you're a professional developer, you can also take advantage of deploying to your server with Git push.
I also love that I can create multiple WordPress installs on the same account, which makes it perfect for spinning up demo sites. Although their Personal Plan ($30/month) says it's only 1 install, they'll totally let you have others for demo purposes – but be warned if one of your installs starts generated more than the allotted traffic, you'll be asked to upgrade your account).
Here's a peek at their dashboard.
I've had consistently friendly and helpful customer service experiences, so double thumbs up on that.
Update: WP Engine now offers billing transfer to clients. Woohoo! Also, as of  Oct 2016, WP Engine announced free Let's Encrypt SSL Certificates available on all accounts (install through your user portal). 

Flywheel
Flywheel is another "managed WordPress host" that, on the surface, might look like WPEngine, but operates quite differently. For starters, Flywheel offers free site migrations, which is a big bonus for users not wanting the hassle (really, who wants the hassle?). Their entry-level account (Tiny Plan for $14/mo) comes in at 50% less than WPEngines basic account ($35).
The Flywheel interface is, well, FLY. The top Flywheel feature is the ability to create accounts for clients and seamlessly transition billing. Check it:
Flywheel is designed for straightforward usage and caters to the consultant spinning up sites for clients. It's not for those who want to tinker with advanced server settings. Also, there's no PHPmyadmin – they've rolled their own DB interface. If that bugs you, then know you'll be bugged before you sign up. If you could give a flip about that, then strongly consider Flywheel.
Let me put it this way: I've yet to hear of a single person who had a bad experience with Flywheel. I've been with them since their beta launch in early 2013 and had a few hiccups, but each was resolved quickly and courteously — even on weekends.
Update: In September 2016, Flywheel announced free Simple SSL for all accounts.
Update: In December 2016, Flywheel acquired a company called Pressmatic and relaunched their product under the name Local by Flywheel. It's a FREE full-fledged local development environment (similar to DesktopServer) and makes publishing development sites to you (or your client's) Flywheel site a freaking breeze. You can use Local even if you're not hosting with Flywheel, but obviously that's integration is tight.
SiteGround
This is the newest of the bunch for me, but so far I'm pleased as punch. In the case of SiteGround, what I needed was cheap WordPress hosting (or, if you're in the marketing department, "affordable WordPress hosting" 😉 ). I didn't need migrations, malware scans, nightly backups, or all the bells and whistles that come with a managed WordPress host – I just needed something quick and inexpensive.
Whereas 10 years ago, GoDaddy would have filled this role for me, I'm now looking at SiteGround. For $6.95/mo and a free domain name to boot, this is a great option if you need to just need something basic.
WordPress is one of several one-click install applications available and you get a standard cPanel interface to work with. While I think cPanels are a gross user interface to work with, the site overall isn't hideous and I appreciate that I haven't been bombarded with up-sell opportunities at every turn when tootling around.
I've tried some other hosts in the "inexpensive/bulk shared hosting" category and been so sorely disappointed with the dependability and the customer service that it was a breath of fresh air to move to WordPress-managed hosts Flywheel and WPEngine. SiteGround is my first attempt in over a year to go back to a shared hosting experience and, so far, it's been good.
One more thing to note: SiteGround accounts come with email accounts. I'm a firm believer that you should host your email separately from your website, but if the email + hosting package turns you on, you'll be happy here.
Update (and a word of caution): I've been with SiteGround a couple of years since writing this post. I am still completely happy with the service from a technical perspective, but have come up on some issues with auto-renews I do not like:
SiteGround auto-renews expiring services up to 30 days BEFORE your service expires. According to their terms of service, you can request a refund, but I don't like this practice. It puts the burden on the customer to either pony up a full month before truly needed or hassle with the refund process.
If you have expiring services, you'll see the screen below when you log in. If you don't want to renew a service at that moment, there's the teeniest, tiniest instruction text and link at the bottom to continue past this screen.
Are these things deceptive? Not really, but they're definitely not designed with the customer's best experience (or interests) in mind. The opposite, actually.
These sorts of practices are par for the course when it comes to bulk hosting. Does that make them a poor choice? No. It just depends on your needs. I wouldn't expect Mercedes-level service at a Chrysler dealership.
Update: As of February 2016, Siteground offers free SSL certificates via Let's Encrypt (install via cPanel in your account).
In Summary
I've highlighted three WordPress hosting companies, each with different strengths depending on what your situation is. Here's an overview, because tables are nice:
| | WPEngine | Flywheel | SiteGround |
| --- | --- | --- | --- |
| Staging Area | Yes | Beta (this has been beta for longer than I'd like and is still buggy) | Yes (on Geek Plan) |
| Multiple WP Installs | Yes (if an install draws a ton of traffic, you may get bumped to a higher plan) | No (but does allow for Demo sites with limited lifespan) | Yes |
| Awesome Customer Service | Yes | Yes | Meh |
| Free Migrations | No (but they do have an automated migration tool) | Yes | Yes |
| Transfer Billing to Client | Yes | Yes | No |
| Automatic Backup | Yes | Yes | Yes |
| One-click (free) Restore from Backup | Yes | Yes | Yes, but not on entry plan. |
| Email | No | No | Yes |
| Git Version Control | Yes (here's a tutorial on using Git push with WPE) | No | Yes (on Geek Plan) |
| Deploy site from DesktopServer | Yes, but with difficulty | Yes, on a site with completed billing | Yes |
| Free SSL | Yes | Yes | Yes |
It's important to keep in mind that hosting is not a one-size-fits-all situation. What I care about in a hosting plan, you may not (and vice versa), so do your homework before signing on the dotted line.
Pro Tip: Keep in mind that while you may get a price break for signing up for a full year, you may want to go month to month with a host before committing to a long-term relationship.